Professional Closed Cell Foam Insulation Protects Homes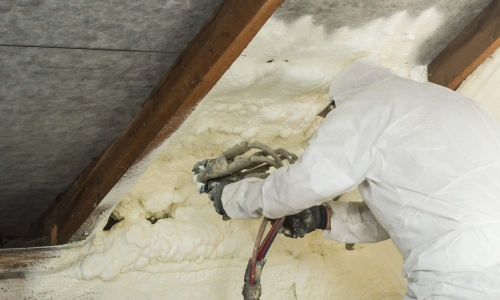 Homes that suffer from excessive heat loss, pests, exterior sounds, and more can benefit from professional closed cell foam insulation services provided by Spartan Insulation & Coating. Our insulation team works with homeowners to identify which areas of their home face troubles from exterior influences and works to seal them better with foam insulation.
Rather than simply suffering through heat loss during the winter, the mugginess of summer, or having to worry about pest removal because of unwanted intruders, let Spartan Insulation & Coating seal your home from outside influences with closed cell foam insulation that is designed to last for years into the future.
Count on professional installation
When it comes to closed cell foam insulation, only a team of professionals can provide you with the best insulation material and services to ensure a great sealing for your home. Spartan Insulation & Coating has worked on different areas of homes is a variety of shapes and sizes, meaning we know all the most important places to seal with closed cell foam insulation to ensure a fully protected home.
Although spray foam cannisters can often be found in hardware stores, it is often only enough for small sealing projects.  Not only does this method of sealing lack the amount of foam insulation to really protect a home, but it also puts the burden of knowing where to seal a home on the homeowner themselves. Instead, let our experienced team guarantee your home a better seal from a team of professionals who can identify where problem areas lie.
 Additions and renovations
Beyond helping homeowners or construction work that needs professional closed cell foam insulation, Spartan Insulation & Coating's insulation services are also a great choice when doing additions or renovations to your home. An important part of the construction process, insulation can be handled by our team so that once your addition or renovation is complete, you can live in complete confidence knowing that it is insulated properly.
And, because closed cell foam insulation adds to the strength of a buildings structure, it can also make your addition or renovation a more-well-built part of your home.
Spartan Insulation & Coating is the locally owned and operated insulation company that provides only the best closed cell foam insulation services to any homeowner in need. If you are planning on insulating a part of, or your entire home, you can count on our team to give you the professional services necessary to fully protect your home.