The 2 Warmest Insulations You Need to Know About for Kalamazoo Winters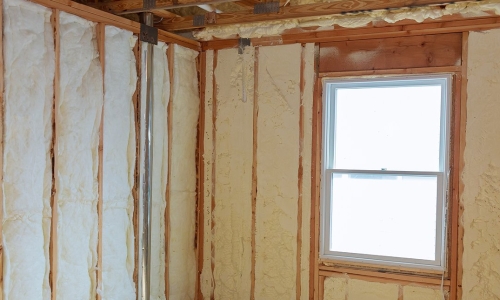 With the winter quickly approaching, there's never been a better time to be aware of the insulation that helps keep you and your family warm through the bitter cold. Even with an unrivalled heating system, the temperature in your home will never truly stabilize unless you have the correct insulation to prevent the cold from creeping in and the heat in your home from escaping. For that reason, we here at Spartan Insulation want to take this month's blog post to discuss how the different types of insulation perform when the cold comes. In particular, we'll be examining fiberglass insulation and spray foam insulation.
Fiberglass Insulation
Fiberglass insulation is one of the most popular varieties of insulation for homes in colder climates—and for good reason. If the winter is already around the corner, then fiberglass is a particularly strong choice because of its flexible options for installation. Unlike spray foam insulation, fiberglass insulation can essentially just be slid into place. This makes it ideal for the fall and winter months, since insulation such as spray foam a more involved process that usually requires a meaningful time away from the home as the spray foam hardens and settles. Moreover, fiberglass insulation has the following benefits:
Sound Reduction. Fiberglass insulation has noise cancelling properties, making it ideal for urban environments.
Cost Efficient. Fiberglass is cheap to produce and easy to install, making it the preferred choice for those on a budget.
Fire Retardant. Because fiberglass is made from sand and glass, it has a shockingly high heat resistance.
Spray Foam Insulation
Spray foam insulation is particularly strong for the winter due to its mitigating effects on ice dams. For those who aren't already aware, ice dams occur when ice forms at the bottom of a rooftop. At the same time, snow that piles above this ice eventually melts into water due to the house's heat leaking. Because the ice prevents this melting water from running off the roof, however, the water stagnates on top of your roof and slowly seeps into the home's walls and insulation. For a helpful graphic of this process, click here to view the University of Minnesota's explanation and diagram.
When you choose spray foam insulation, however, the damage to your home from ice dams can be greatly mitigated. Because spray foam insulation is a sealant, it can prevent the water from seeping through your walls and home, stopping both water damage and the accumulation of mold and mildew. By contrast, fiberglass insulation is more vulnerable to water damage, and can become a host for mold and mildew in the event of ice dam water damage. Additionally, spray foam insulation is has beneficial qualities such as:
Improved Air Quality. Because spray foam insulation is a sealant, allergens and pests can't enter your home through spray foam-sealed walls, improving your air quality.
Improved Structural Support. Since spray foam insulation is essentially an adhesive, it glues your walls together, keeping adding an extra layer of structural integrity.
Long-Lasting. Spray foam insulation is considerably long lasting due to its chemical formula, and will structurally remain near-constant through the years.
Everyone deserves a warm, dry home to lay their head when the winter comes, and our goal at Spartan Insulation is to help make that a reality for everyone in the Kalamazoo area. For more information, contact us today to get started on keeping the heat in and the cold out.