The Ins and Outs of Spray Foam Insulation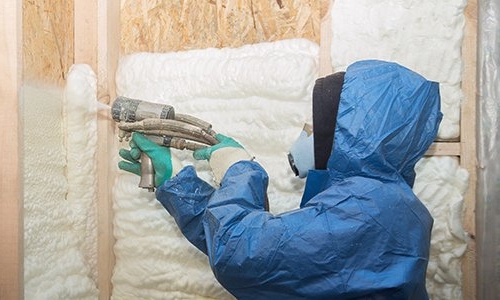 Perhaps the most popular form of insulation, spray foam insulation (SPF) nonetheless isn't generally well understood outside of those who work in insulation services. For that reason, we at Spartan Insulation are here today to review the essential characteristics of spray foam insulation, as well as how you can decide whether or not it's the best form of insulation to suit your needs.
Spray Foam Insulation Helps Maintain Building Stability
Unique to spray foam insulation is the property of increasing the stability of your building. Where other forms of insulation rely on your building's stability to function properly, spray foam insulations acts as something akin to a glue, which adheres to the materials that make up your home or building. In turn, this glue-like adherence creates a seal of sorts, which helps hold the building together while preventing the elements from stealing into your home.
Spray Foam Saves on Energy Costs
Perhaps one of the most persuasive aspects of spray foam is its tendency to save homeowners money on energy costs in the long run. Due to spray foam's tight seal on the walls of your home, air has a difficult time getting in or out without you intervening to change the air flow. Because unwanted air has a difficult time entering your home, that means that the cost to heat or cool your home will decrease as the temperature of your home naturally remains stable. Additionally, spray foam is adept at keeping dust and pollen at bay, so those with allergies need not worry about venting their home in order to stop themselves from sneezing up a storm.
Spray Foam Insulation Pairs Well with Nu-Wool Insulation
Spray foam insulation is particularly strong at insulating areas such as basements, pole barns, and new constructions. That being said, SPF is often best paired with its insulator cousin—cellulose insulation. This is because, where spray foam insulation specializes in other aspects of the home, cellulose insulation is particularly strong at insulating attics and walls. Here at Spartan Insulation, we use Nu-Wool® insulation as our cellulose insulation of choice due to its high R-Value (insulation value) and environmentally friendly nature, as it is made up of 85% of recycled paper.
Are you interested in using spray foam insulation to keep your home warm in the winter and cool in the summer? If so, reach out to us today to begin planning out your home's new insulation.